Track Listing:
1. Computer Age (Push The Button)
2. Automan
3. I'm Not A Robot
4. Destination Earth (1999)
5. Jam On Revenge (The Wikki Wikki Song)
6. Jam On It
7. No More Runnin'
8. Jam On It (12 Inch Vocal)
9. Jam On It (12 Inch Instrumental)
10. No More Runnin' (Original Studio Arrangement)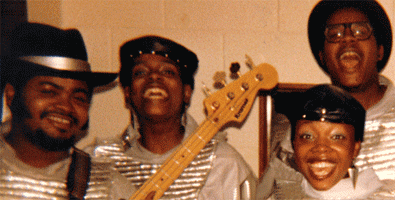 Classic NEWCLEUS Album Reissue
After hearing the numerous pleas of frustrated Newcleus fans for so long, who have wanted this legendary album on CD but did not have the $100 and up to pay for an obscure German bootleg, Jam-On Productions proudly responds with our paramount reissue of Newcleus' first album "Jam On Revenge"!
The song "Where's The Beat" has been extracted due to its not actually being made or even liked by the group, but every other note and beat is included as it was originally released, from the opening narration and the sound effects joining the songs to the classic Hip-Hop and Electrofunk in-between.
Painstakingly re-mastered from digital sources (no vinyl was used whatsoever), this reissue sounds even better than the original! The famous Bob Camp cartoon cover art is included of course, along with added photos and complete full liner notes documenting all performances. Also included are the full 12inch versions of "Jam On It", including the instrumental, never before available on CD! Finally, the CD is rounded out with the original studio arrangement of "No More Runnin'", which was taken from a rough mix of the song made right after the original studio session. This has never been released on any commercial recording anywhere!
Whether you are a big fan of Newcleus, or a serious connoisseur of Old School Hip-Hop or Electro, or just a lover of good music, your collection is incomplete without Jam-On Productions' and Jam-On Recordings' reissue of Newcleus' "JAM ON REVENGE"!!!