Track Listing:
1. Computer Age (Push The Button)
2. Automan
3. I'm Not A Robot
4. Destination Earth (1999)
5. Jam On Revenge (The Wikki Wikki Song)
6. Jam On It
7. No More Runnin'
8. Jam On It (12 Inch Vocal)
9. Jam On It (12 Inch Instrumental)
10. No More Runnin' (Original Studio Arrangement)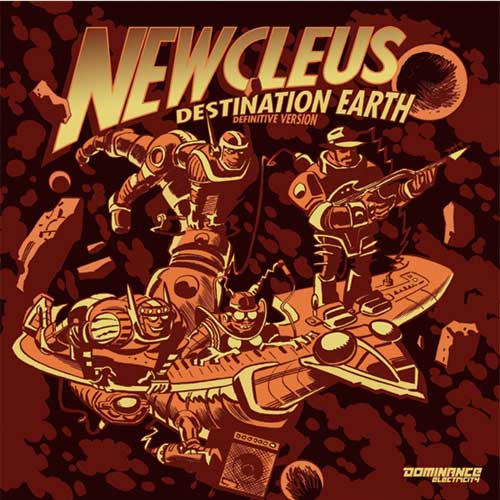 NEWCLEUS
Destination: Earth
Tracklist / Audio-teasers:
A1 Destination Earth (Definitive Version)
(Taken from the Newcleus compilation Destination: Earth – The Definitive Newcleus Recordings)
A2 Why (Definitive Version)
(Taken from the Newcleus compilation Destination: Earth – The Definitive Newcleus Recordings)
B1 Destination Earth (Sbassship Remix)
(New remix by the Dominance Electricity crew)
B2 Destination Earth (Reeno Remix)

(New remix by the Globalfunkradio and Spazzoid Records funk phenomenon)The Story (by Cozmo D) – excerpt
"Destination Earth" was perhaps the song that defined us most as a group. Of all the songs we did it reflected our mission most perfectly. We were haunted by a sad, loveless world and were trying to effect change though our futuristic music, it was a song about a person haunted by the same sad, loveless world and was trying to escape it through a time machine, to a future earth that had been changed to a world of love. It was the song that we wanted to name our first album after. So, imagine our shock when we first heard the album in 1984 and found that Jonathan Fearing had shortened it, rearranged it, and made it an instrumental. Fortunately, after painstakingly searching through old tapes and records, we were able to restore the arrangement and vocal for this release, as well as the second synth solo and sound effects.
"Why" took the most bizarre journey of any of the songs that were released as Newcleus. A favorite of our Positive Messenger songs and one of the oldest, it was on the original demo tape that we used to shop for a deal, but we decided that it didn´t fit with the first album. Still, it was a song that we loved deeply, so when we got our first MIDI equipment following the first album it was the first thing we worked on. It was strictly a labor of love, both to explore in depth the new capabilities of MIDI and our new sounds and to see just how far we could take the song. We had no intention of releasing it, so we placed no limitation on how creative we would get with it. What we ended up with was a funky Reggae meets Hip-Hop meets Dance song filled with beautiful Jazz overtones. Once our producer Joe Webb heard it, he literally started begging us to include it in the new album. We refused. We remembered what happened to "Destination Earth" and we didn't wish "Why" to meet the same fate. However, with a last slot still left on the album, Webb promised that Fearing would not mix or even touch the song. It was a lie, Fearing did indeed mix the song. Unfortunately, by this time he was very ill. This is plainly heard in the mix as the stereo strings are out of phase and fade in and out, as does the beautiful programmed piano solo. The version of "Why" that we have included here is the original 12-track recording that caused all of the begging, digitally remixed and remastered.
The Picture
was drawn by Bill Wray (known for his work on the 90s cult cartoon "Ren & Stimpy") for Dominance Records
The Label
Dominance Records / Dominance Electricity releases oldschoolish electro in germany since 1996.
free download: a 2-hour dj mix with music from Dominance Electricity's catalogue.
click HERE to load (274mb) …tracklist: http://www.dominance-records.de/radio/
The near future also holds
A making of-film shot at the pressing plant during the production of the Newcleus 12″
IN STORES NOW!!!
USA:
www.electrowax.com
www.onbeatmusic.com
www.syntaxmusic.com (Distributor) <<-very soon
Germany:
www.das-drehmoment.net
www.decks.de
www1.web-records.com
www.deejay.de
www.mzee.com
www.alive-ag.de (Distributor)
Austria:
www.bouncerecords.biz
Holland:
www.clone.nl
www.tunesville.nl
Belgium:
www.flexx.be
Spain:
Bunker-Store, Barcelona
France:
www.templeplate.com
www.nuloop.com
www.toolboxrecords.com (Distributor)
UK:
www.juno.co.uk
www.smallfish.co.uk
www.veto.co.uk (Distributor)