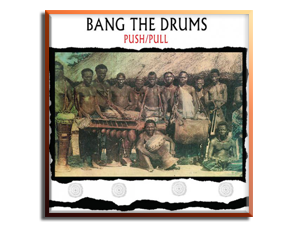 . AFRICA – Featuring Lady E and Nique D
2. TRIBAL RHYTHM
3. ZANZIBAR
4. INCIDENT IN NATAL
5. ZULU MAN (WE'RE ONE NATION – Featuring Buster Phott
6. BANG THE DRUMS – Featuring Rebal 3
7. SECRETS OF THE NILE
8. AFRICA (MAU MAU MIX) – Featuring Lady E and Nique D
9. AFRICA (FUTURE PRIMITIVE MIX) – Featuring Lade E and Nique D
10. WHY CAN'T WE LIVE TOGETHER – Featuring Reggie Rough
11. I'M IN LOVE – Featuring Laurie Maynard
12. MY LOVE TURNS TO LIQUID – Featuring Yvette Cenac
13. AFRICA (ROBINSON CUTSO MIX) – Featuring Lady E and Nique D
14. ZULU MAN (PRIMAL MIX) – Featuring Buster Phott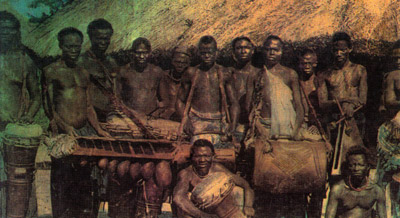 PUSH PULL
BANG THE DRUMS
Jazz House, Tribal House & Hip House All Merge In This Classic Album From Push/Pull!
It was the dawn of the '90s. House music was in it's golden age and Hip-Hop was at it's most conscious state. Ben "Cozmo D" Cenac, deeply immersed in both, fused them with Jazz and Electrofied Afro-Cuban rhythms, as he set out on his first ever solo project. The result was Push/Pull's groundbreaking underground House album, "BANG THE DRUMS"!
Recognized as a pioneering milestone in the development of Tribal House and Jazz House, "Bang The Drums" served as catylist to launch those genres upon the Underground Dance scene.
NOW THE DRUMS SOUND ONCE AGAIN!
Jam-On Productions and Dizkotek Records proudly announce the re-release of this classic album, fully digitally remastered and with 3 newly added bonus tracks! With the new re-edit of the title track to de-commercialize it and allow it to fit more evenly with the feel and flavor of the rest of the album, this release comes even closer than the original to the album that Cozmo first envisioned.
PUSH/PULL…"BANG THE DRUMS"…A CLASSIC REBORN!